TOP BREEDER 2002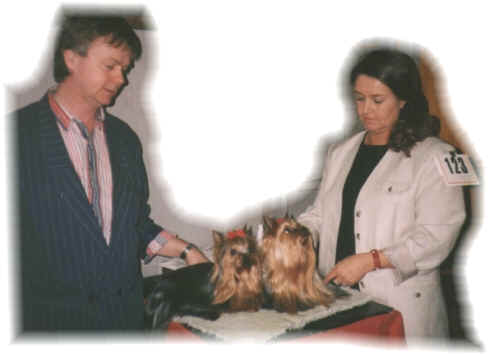 DEBONAIRE'S
Owners:
BERNICE UNDÉN & BENGT PETTERSSON, SWEDEN
Debonaire's was in l998 honored with the Swedish Terrier Club Medal for successful breeding of Yorkshire Terriers
Debonaire's was in 2001 honoured with Hamiltonplaketten. The Swedish Kennel Clubs higest award for breeders. The plaquette can be awarded to the one who through successful breeding to a great degree benefits the object of the society.
Debonaire's is the only Yorkshire Terrier kennel which has been awarded with both the Terrier Clubs Medal and the Hamiltonplaquette
Contact: E-MAIL
Phone +46(0)322-5ll50 fax+46(0)322-5ll59
In 30 years of breeding and showing Yorkshire Terriers, we have been awarded the title TOP YORKIES 15 times
It is a pleasure to invite you to Debonaire's! Come and see some photos from: Our home and Our garden
The Story of the Debonaire's Yorkshire Terriers as printed in The international Yorkshire Terrier ABOUT US Written by Bengt Pettersson.
We have bred or owned 94 champions. See some of them among THE GIRLS and THE BOYS
30 years of breeding Yorkshire Terriers bring back many memories. We share some of our HIGHLIGHTS with you.
See the photos of a great Yorkie's development

And here you can read about our latest NEWS